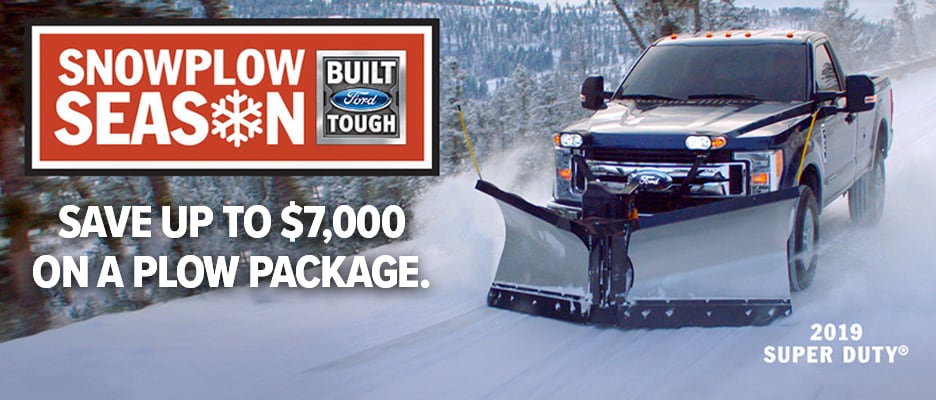 Overview
Winter in New England is nearly impossible to predict, which is why it's best to be prepared for whatever it might throw your way. Whether you plow as a contractor or you simply like to clear your driveway (and maybe your neighbors') yourself, having your own snow plow can make all the difference. But while setting up your Ford F Series pickup with an aftermarket snow plow can really make those tough few months a whole lot more manageable, there's a right way to go about it. The Ford Plow Prep Package, which you can opt for when you purchase your new F Series model, ensures the compatibility and optimal function of your plow.
---
This original equipment manufacturer (OEM) plow compatibility package contains software and equipment upgrades that optimize Ford F Series pickups for plow use. These elements include stronger front springs for bearing the plow's weight (up to 1,000 pounds), the necessary electrical controls and wiring, and a heavy-duty alternator suited to the extra demands of continuously raising and lowering a plow blade. An ordinary alternator might not be capable of keeping the pickup's electrical system charged sufficiently to run necessary accessories like the windshield wipers, lights, and heat. On that note, only one brand of plow, Sno-Way International, is approved for use with Ford F-150s.
---
Why Take Chances?
Some automotive warranties state in the fine print that the manufacturer can void said warranty if any unapproved modifications are made to the vehicle. That means there's risk to attaching a plow to a Ford truck that does not have the original factory Snow Plow Prep Package installed. For that matter, some snow-plow installers will even refuse to put plows on trucks that aren't equipped with the automaker's factory snow-plow prep package.
---
Made for Your Truck
Plow weights vary greatly, but one thing's for sure: they're all heavy. And where you can improve your traction by throwing some weight into the bed of your truck, the weight of a heavy plow up front will put too much strain on the front end and negatively affect traction. Even when you're just driving around and not picking up any snow, a plow that isn't well matched for your pickup will be too heavy to accommodate all the weight that's hanging off the front end. The Ford Snow Plow Prep Package, though, has those stronger springs to accommodate that extra weight. If you haven't yet selected your aftermarket plow, be sure to follow the manufacturer's recommendations and limitations with regard to the size of the plow, the maximum ballast (extra weight in the back to balance the weight in the front), and the gross weight limitations for your truck.
---